Arkiv for: januar 16th, 2019
Hei igjen, det er onsdag og det nærmer seg helg. Har dere noen planer for helgen? Vi skal på middag hos et vennepar på lørdag, ellers ingen planer. Bortsett fra strikking da. Det blir nok  litt strikk  på lørdagskvelden også, siden  Lisbeth er også en «strikker» . 
I sommer var jeg så  heldig å få tur til Vilnius i 50 års gave , av min søster og svigerinne med familier. Det er en jentetur, så det blir oss tre som drar. Vi drar 21.mars og kommer hjem 24.mars, så det er jo en liten stund til.   Men jeg allerede begynt å google etter garnbutikker. Hvis noen av dere har vært der og kan anbefale noe, er det supert. Det er viktig å være godt forberedt. 
Hi, it is wedensday and soon it is weekend. Do you have any plans for the weekend? We have been  invited by some friends to dinner saturday evening, since Lisbeth also knits I am going to bring my knitting. 
Last summer I turned 50 years old, and lucky me got the trip as a present  from my sister and sister in law and their families. It`s girls only, so it is my sister in law, sister and me. We are going Vilnius 21st og march and return 24th marsch, so it is still a little time before we are going. But  it is important to be prepared, so I have started looking for yarnshops on internet. Do you know any? Please tell me. 
Det er fortsatt vinter her på Greverud, hvor vi bor. Litt snø har vi også, i dag er det minus 5 og snøvær. Det er koselig med litt snø, da blir det ikke så mørkt. Kanskje det kommer såpass at det blir bra skiføre?  I dag var det minus 7,5 grader, så i dag har jeg på min strikkekjole. Ikke så ofte jeg får brukt den , da den er så varm . Oppskriften har jeg lagd og dersom du er interessert i å kjøpe den er det bare å go meg beskjed.  Hvordan er det hos dere? Denne årstiden er perfekt for strikk, spesielt ull. Kan jo med fordel også bruke ull på sommeren også, særlig på litt kjølige kvelder på terrassen.
We still have winter at Greverud, where we live . Today it is snowing and minus 5 degrees celicius. I like snow, it makes it a little brighter. Maybe it will be enough for skiing? How is the weather at your places? Today I woke up to minus 7,5 degrees celicius, sp today I am wearing my knitted dress. It is not that often I wear it, because it is warm. I have made the pattern. This time of year is perfect for wearing knitted items, specially wool. I also use wool in  the summer, some evenings can be a little chill.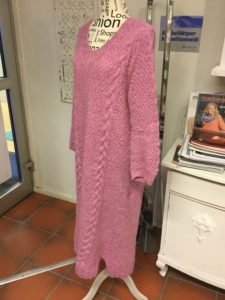 Det går fortsatt i strikk av Cortinajakken og ID Cardiganen her hos meg. Skal vel innrømmes at det ikke har blitt så masse strikk på Cortinajakken i det siste. Vil jo gjerne blir ferdig med cardiganen, siden jeg har fått garn fra Ritohobby.no.  Jeg er nå ferdig med  lommene og strikker meg videre nedover bolen. Jeg valgte en annen teknikk på lommene enn det som står i oppskriften, da jeg syns at det er både enklere og blir penere. 
I am still knitting on the Cortinajacket and the Id Cardigan. I have to admit that I have not  knitted so much on the Cortinajacket the last days. Since I got the yarn from Ritohobby.no I am  eager to finish this project. I have finsihed the pockets, and working my way towards the bottom of the cardigan. The technique I use for the pockets is another than described in the pattern. This because I think the technique I have used  is easier and the result is better. 
Jeg syns ofte det blir penere å skjule klippekanten på kofter med bånd, og det er også planen med Cortinajakkene. Har nå kjøpt bånd til Knut sin, og det kom i posten i går. Fant dette faktisk på nettet, vevde bånd er jo normalt ganske dyrt, men dette var veldig rimelig. Alltid litt spennende å se hvordan ting er «live» når man har handlet på nett. Men dette var kjempefint. Tror jeg skal se om jeg kan finne et til min Cortinajakke også.
When I assamblying a jacket I often prefer to use a woven ribbon to cover the wound edge in the front. This is also amyplan for the Cortinajackets. For a little while ago I ordred ribbon for Knuts jacket, and yesterday I recieved it. Normally these woven ribbon is quit expensive  here in Norway, but this I order from Aliexpress was really cheap. I was not shure how this would be, so I was so happy to see the quality yesterday. I think I am going to look after a ribbon for my jacket as well.
Ønsker dere alle en fortsatt fin uke.
Wish you all a nice week. 
Annonser
---