Arkiv for: juli 20th, 2019
Hei og god lørdag. Her er det god temperatur men litt skyet, startet dagen med en tur til Sverige. Dro rett over kl 8 og var fremme i Töckfors kl 9. Vinskap, kjøleskap og fryser har blir fylt opp. Stoppet i tillegg på Rema 1000 og kjøpte en kasse med norsk jordbær. Norske jordbær på sitt beste, røde, søte og fine. Veldig lite som måtte kastes. Nå er det lagd rørt syltetøy. Knut har renset bær jeg har kuttet og puttet i «kenwood-bollen». Skikkelig teamwork. Nam nam, masse deilig syltetøy utover høsten og vinteren. 
Hi and happy saturday. We are experience some good summerdays , some clouds but really good temperature. The day started with a roadtrip to Sweden ( our neighbor country) eight o´clock and arrived 9´clock. We bought wine and food since it is so much cheaper there. At the way home we stopped and by Norwegian strawberries, red and sweet. We have now been making a lots of jam, my husband Knut purified the berrys and I maked the jam, real teamwork. 
På torsdag ble jeg endelig ferdig med strikkejakken jeg har holdt på med i en evighet, sjekket her på bloggen at jeg startet med den ca 9.juli 2017. Med andre ord, på tide å bli ferdig. Her ser dere resultatet. 
On thursday I finally finished this jacket. I have been knitting on it for ages, actually since 9th july 2017.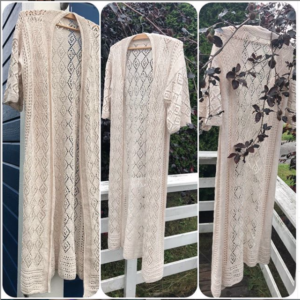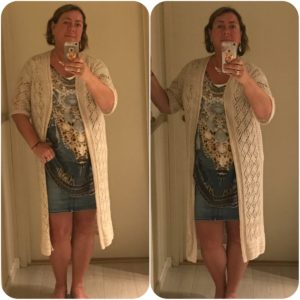 Her i bruk :) In use :)
Om ca 1,5 uke drar vi til Spania, denne blir nok med dit, så får vi se om den blir brukt. Spania i august er ofte varm og fuktig. 30 grader pluss. Gleder meg stort til ferie med sol og varme nå. Der blir det ikke så mye strikking der, så nå jobber jeg videre med den marineblå jakken. Holder fortsatt på med ermene på den. Kanskje jeg blir ferdig med den før jeg drar? Ønsker dere alle en riktig god sommer 
In one and a half week we ar e going to Spain, and this jacket is coming along. Hopefully it will not be to worm for it. August in Spain is often really hot about 30 degrees celcius and much humidity. In Spain there will not be to much knitting, but until then I keep on knitting on other prosjects. Happy summer to you all.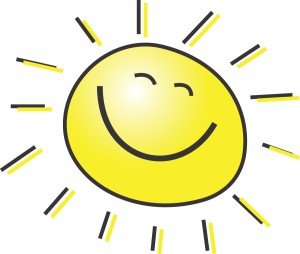 Annonser
---