Arkiv for: februar 18th, 2019
Ja, du leste riktig. Jeg fikk garn levert på døra, jeg er så heldig at jeg har fått  garn sponset av Rito Hobby. hobby.no/6-garn 
Yes, you got it right. I got delivered yarn at my door, I am so lucky to recieve yarn from Rito Hobby.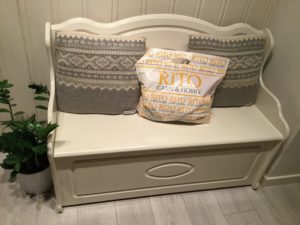 Denne gangen er det en kofte som skal strikkes.  Og ja, jeg har kjøpt garn til en Cortina Jakke til meg også, men jeg tenker at den må vente litt.  Garnet jeg har fått til sendt er et ganske nytt merino-garn , bare se alle de lekre fargene de har her: www.ritohobby.no.  Det er ikke superwash – behandlet, hvert fall ikke det jeg kan se. Jeg har bare så vidt kommet i gang med vrangborden på bolen. Gleder meg til å komme i gang med mønsteret. 
Jeg valgte disse fargen, jeg syns de var så lekre. Garnet er i 50 gr.  nøster med 170 meter pr. nøste. Strikkefasthet  28/10 pinne 2,5 – 3,5. 
I have decided that I am going to knit a jacket with pattern. A while ago I bought yarn to another jacket, just like the one I am finishing these days. I think I have to wait a little bit before I start with that one. This new yarn is pretty new. Look here at all the beautiful colors :https://ritohobby.no/6-garn  It is not superwash treated, wich I like, and it is 100% merinowool.  I have just started and looking forward to start with the pattern. I choosed these colours, aren`t they beautiful? The yarn is sold in 50 gr bowls, 170 meters in one, gauge 28/10 with needles 2,5 – 3,5. 
Jeg er i disse dager i ferd med å ferdigstille Knut sin Cortina jakke. Det eneste som gjenstår nå er å sy på bånd over sårkantene i fronten. Dette er slik som må gjøres, uten at jeg ser på Tv samtidig. Så i går måtte jeg jo selvfølgelig starte med mitt nye garn. Har enda ikke kommet så lang, men gleder meg stort til å starte med mønster.
I am about to finish Knuts Cortina jacket. The only thing I have left is to sew on the woven ribbon over the edges in the front. Since I have to do it with full consentration, I just had to start with my new yarn yesterday evening. Can´t wait to start with the pattern. 
Koften som skal strikkes er en Wiolakofte som heter  «på kryss og tvers».  Design: Kristin Wiola Ødegård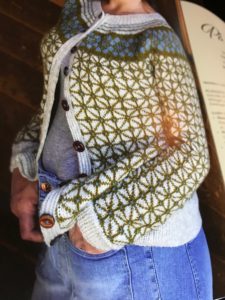 The jacket is designed by a norwegian designer, Kristin Wiola Ødegård. 
Hvordan går det med dere? Har dere noen nye prosjekt på gang? 
How are you?  Do you have any new projects?
Annonser
---