Arkiv for: februar 28th, 2019
Hei og god torsdag. Ikke lenge til helg nå. Og ja, hva har jeg nå gjort igjen? Kan det ha noe med garn å gjøre? Svaret er JA, falt for fristelsen å prøve et nytt garn. Merkelig nok dukker det opp masse reklame for garn på Facebook :p . Denne gangen er det er bærekraftig garn som er bestilt. Ja, du leste riktig, det er bambus og tencel. Må innrømmes at jeg ikke hadde hørt om det, er det jeg som er helt ute?  Bare les om garnet her :
Hi, and happy thursday. Soon weekend. And what did I do, again? Is it possible that it related to yarn? The answere is YES, I just had to order this new yarn. Is`nt it strange, somehow ads concerning yarn keeps popping up at my facebook :p. This yarn is sustainable with bamboo and tencel ( hope the word is correct). I had not heard about it, have you?
Tencel er et delikat og mykt garn, med et silkeaktig skjær.
Garnet er enestående vakkert og føles fantastisk i hendene når det strikkes eller hekles.
Garnet er dessuten sterkt og holder fasongen.
Info om materialet 'Tencel':
Hva er det?
Tencel er et organisk bæredyktig naturmateriale som fremstilles av treflis, primært fra bøk og eukalyptus. Treet er FSC sertifisert og kommer fra naturlig nedbrytning av skog og rester fra andre treproduksjoner.
Tencel er det mest skånsomme materiale for miljøet, fremstillet under ypperlig miljøhensyn.
Det unike med Tencel.
Sammensettningen av fibrene fra bøk og eukalyptus gjør at materialet Tencel er behagelig mot huden. Fibrenes glatte struktur gjør at garnet er veldig mykt og skånsomt mot huden.
Det er mykere enn silke og glattere mot huden enn bomull og ull og har dessuten en super absorbasjonsevne.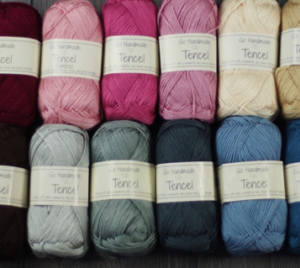 Tencel is a delicate and soft yarn, with a silky look.  The yarn is outstandingly beautiful and feels wonderful in the hands when knit or crochet. The yarn is also strong and keeps its shape.
Info about the material 'Tencel':
What is it? Tencel is an organically sustainable natural material made from wood chips, primarily from beech and eucalyptus. The tree is FSC certified and comes from natural degradation of forests and residues from other wood products. Tencel is the most gentle material for the environment, produced under excellent environmental conditions.
It's unique with Tencel.
The composition of the beech and eucalyptus fibers makes the Tencel material comfortable against the skin. The smooth structure of the fibers makes the yarn very soft and gentle on the skin. It is softer than silk and smoother on the skin than cotton and wool and also has a super absorbent ability.
Tencel is the most gentle material for the environment, produced under excellent environmental conditions.
Gleder meg til å få det i hus! 
Really looking forward to getting it!
Annonser
---