Arkiv for: mars 17th, 2019
Hei og god søndag. Her har det vært innedag, skikkelig dårlig vær ute. Prøvde å gå en tur tidligere i dag, men da det begynte å regne omtrent med en gang vi kom ut, snudde vi og gikk inn igjen. Ellers har det vært en stille og rolig helg. Var en liten tur over grensa i går og fikk handlet inn litt nye forsyninger. Med strikking i bilen til og fra og foran Tv ´n senere på  lørdagen, er jeg nesten ferdig med kofta på «Kryss og tvers».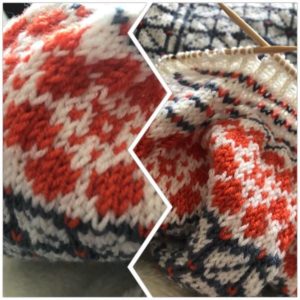 I dag har jeg sydd med maskin i fronten , klippet og startet med knappestolpene.
I følge oppskriften skal de hekles, for å sitere Pippi  «Det har jeg aldri gjort før, så det klarer jeg helt sikkert.»  Er godt i gang, spent på resultatet :)
Him, and happy sunday. Today the weather has been terrible so I have stayed inside. I tried to go for a walk earlier today, but it started raining so I went back. Yesterday we went to Sweden to buy some more food, I knitted in the car and later while we watched  the telly so I am almost finished with my jacket. Today I have been sewing in the front by maschine, cutted and starter crocheted the rib in the front og the jacket. I have never crocheted rib before, so I am quit exited to se the result. 
Nå er det ikke mange dagen igjen før jeg skal på tur. Torsdag drar min søster, svigerinne og jeg til Vilnius , hovedstaden i Lithauen . Vi skal være borte fra torsdag til søndag:) Turen  er  bursdagsgave fra mine søsken m/familie da jeg ble 50 år forrige sommer. Vi har planlagt en hel dag med velvære. Ansiktspleie, kroppspleie, massasje og hår står på programmet. Det gleder jeg meg veldig til. Skal også prøve å få tatt turen innom en lokal garnbutikk. Kanskje jeg finner noe spennende?  Har noen av dere vært der? Kom gjerne med tips!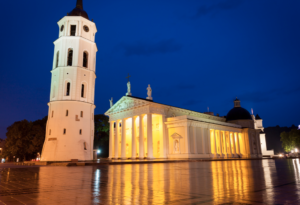 Thursday I am going til Vilnius, the capital og Lithuania. I am going with my sister and sister in law. We are staying until sunday, The trip is a birthday gift from my siblings with families to my 50th birthday last summer. We have planned a full day of well-being. Facial, bodycare, massage and doing our hair are what we have planned. I am really looking forward to it. I also hope to find a yarnstore, maybe I find something exciting? Have any of been there? Please tell me if you have any suggestons regarding yarnstores. 
Annonser
---