Arkiv for: mars 30th, 2019
Da har jeg kommet vel hjem fra Vilnius, jeg dro torsdag 21 og kom hjem igjen søndag 24. Flytiden var kun 1 time og 50 minutter, og med kun 10 minutters taxitur til hotellet gikk reisen fort. Vi startet dagen med et glass Riesling til den nette sum av kr 173,-!!!!! Det skulle ikke vært lov, for en fortjeneste de må ha? Men blide var vi da, min svigerinne Marianne og jeg.

I am home from my trip to Vilnius, I left thursday 21th of march and arrived at home sunday 24th. Flight time 1 hour 50 minutes and only took about 10 minutes by taxi from the airport to the hotel, nice!  The travel started with a glas Riesling at Gardermoen Airport at the price about 17 euro!!!! It is terrible that they can charge us that much for only one glass.  But still happy, my sister in law Marianne and me.
Det som var igjen av den første dagen gjorde vi oss litt kjent i byen etter ankomst på hotellet, og rett ved vårt hotell var Vilnius Katedralen. Katedralen er romersk-katolsk og hovedkirken i Vilnius. Den var kjempestor, bare se på størrelsen på døren. 
Siden det var stengt da vi gikk forbi bestemte vi oss får å avlegge den et besøk senere. Flere bilder kommer senere i innlegget.
What was left if thursday, the day we arrived we used to walk around the city. Our hotel, Hotel Tilto was really close to Vilnius Cathedral, which is the main church in Vilnius.  It was really big, just look at the size of the doors. Since it was closed when we passed it we decided to visit it later, so pictures from the inside we be later in the post.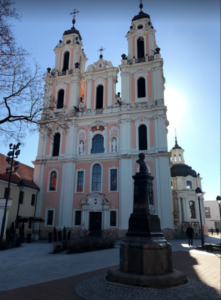 Church of St. Catherine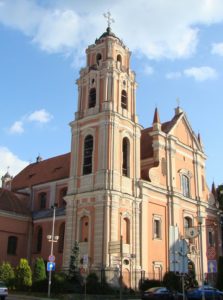 Church of All Saints
Som dere kan se, er det flere kirker i Vilnius.Her var vi som dere ser inne i kirken og tittet. Det var virkelig vakkert og imponerende, ikke lett å skjønne hvordan
As you can se it is more than one church in Vilnius. And they where so beautiful and impressing with their decoration, art and ceiling. I just can`t imagine how they managed to make everything without all the tools we have today,
Etter å ha gått en god stund fant vi plutselig ut at vi var jo ikke så langt unna hverken beauty salongen eller garnbutikken. hHor vi skulle tilbringe store deler av lørdag faktisk fra kl 10.30 til kl 15.30. Beauty salongen Biodroga SPA fant vi  lett, og derfra var det kun 3 minutter å gå , iflg Google maps. Hva skulle vi gjort uten mobil og google?
After a while we discovered that the SPA and yarn shop was nearby. We had made appointment in a beauty salon saturday for several treatments. Actually we had appointment from 10.30 AM until 3.30 PM. The SPA was easily discovered and just three minutes walk from there we found the yarn store. What to do without Iphone and google maps?
I garnbutikken var det en veldig koselig dame som jobbet, og selvfølgelig masse garn.
The lady in the yarn store was so nice, and it was a lot of yarn there.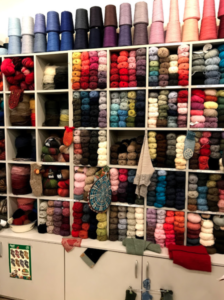 Det er med hennes tillatelse at disse bilder blir lagt ut.  Det var også strikkekafe denne dagen, og et bilde av de måtte også knipses. De ble veldig interessert da jeg spurt om lov til å legge ut bilde av de på bloggen. Så jeg ga de bloggadressen. Spennende om jeg hører noe fra de. 
I have her permission to post these pictures on the blogg.  It was also a knit cafe ( I don`t know if  I use the right word in english, so please tell me if I am wrong.) They fot really interested when I asked them if I could post the picture om my knitting blog, so I gave them the name. Maybe some of them post a comment?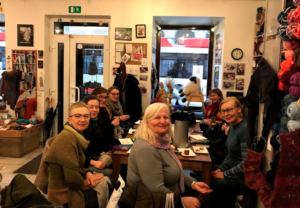 Noe storshopping ble det ikke, men to nøster ble med meg ut av butikken. Ett håndfarget ullgarn og et lekkert ull/silkegarn.  Hva jeg skal strikke derimot vet jeg ikke, enda. 
I did not shop a lot, just 2 skeins og yarn. On the picture under it is a yarn in wool and the other one is beautyful wool/silk yarn. But what to knit? I just don`t know yet.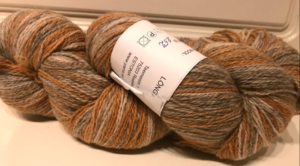 Fredag morgen våknet vi til nydelig vær, så da var det bare å komme seg ut. Dagen var satt av til kos, shopping og mere kos. Så en Irish Coffee i solen på en fortaus cafe utpå formiddagen var ganske deilig. Videre gitt turen til Illusion museum, som var en morsom opplevelse.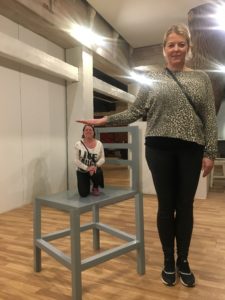 Friday morning we wake up to beautiful weather our plans was just to enjoy the city and maby do some shopping. We started with an Irish Coffee in the sun outdoors. Then we went to the museum of illusions. That was fun.  
Mange brosteinsbelagte gater og trange smug i Vilnius, og heldig for oss fant vi veien til Bistro 18. Bistro 18 var en av de restaurantene vi hadde lest om og blitt anbefalt før vi dro. Morsomt da og plutselig befinne oss rett utenfor egentlig på jakt etter en Aperol. Det hadde de ikke der, men mye annet godt for ganen hadde de. Der inntok vi en bedre lunch. 
There are many cobbles streets and narrow alleys in Vilnius and we are so happy that we found the way ti Bistro 18. We had prior to trip heard and been recommended this restaurant so it was so nice that we suddenly was right in front of it looking for a glass of Aperol Spritz. They didn`t have it but som much else, We stayed there for lunch. 
Rart hvor tørst man blir av å gå gatelangs, heldigvis fant vi en pub hvor de hadde det meste. For sikkerhetsskyld en sportsbar, men det stoppet ikke oss.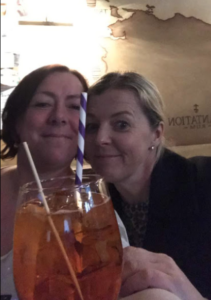 It is strange how thirsty you can get just walking around. Lucky for us we found a pub who served Aerol Spritz, that it was a sportsbar was okey. 
På kvelden spiste vi på indisk restaurant, mmm skikkelig digg var det. I på vente av ledig bord ble det også tid til en Aperol Spritz  før middag. 
For dinner this evening we went for Indian cuisine. Mmmm really tasty.
Lørdag var det først frokost før vi skulle av gårde til SPA. Vi gikk vel ut ca kl 9.30, og hadde god tid. Tanken var en stopp i sola , kanskje en Irish? Men det var ikke ett eneste sted som åpnet før kl 11, hvert fall ikke som hadde Irsh, butikkene  åpnet også først kl 11. Så da var det bare å rusle sakte til SPA. 
Saturday we went to the SPA after breakfast at the hotel. We went about 9.30 AM and since we had 1 hour until our appointment, we planned to have a pit stop and maybe enjoy an Irish Coffee.  But easier said than done. It was not a singel place that opened before 11 o`clock.
Og som vi koste oss. Alle 3 gjorde omtrent det samme, jeg startet med en times massasje før jeg ble «pakket» inn i bodywrap. Mens jeg lå «pakket inn» fikk jeg 1 time med ansiktspleie som ble avsluttet med forming og farging av bryn og farging av vipper. Deretter var det til frisøren, her ble det klipp og farge. Når man er 4,5 time på SPA er det viktig å ikke bli dehydrert. Så vi koste oss med Prosecco.  For en luksus dag.
What a day! All three had almost the same treatments. I started with one hour massage before 1 hour bodywrap. While i was wrapped I got one hour facial treatment witch was finished with firming and colouring of eyebrows and colouring lashes. Then hairdressing next. Cut and colouring. When spending 4,5 hours in SPA it is important to don`t get dehydrated. We enjoyed some Prosecco. What a day!
Siste kvelden var på på en veldig fin italiensk restaurant og koste oss med god mat og drikke, før vi søndag morgen satte kursen hjem igjen. Flere bilder kommer når problemet hos bloggnorge er løst.  Ønsker dere alle en fin fin lørdag.
The last evening we enjoyed dinner at an Italian restaurant, before we Sunday morning went home to Norway. Sorry about the pictures, hopefully bloggnorge solves the problem soon. Happy Saturday to you all. 
Annonser
---