Arkiv for: november 18th, 2019
Hei og god mandag. Her det det skikkelig møkkavær om dagen, regn, regn og atter regn. Hva passer vel bedre enn fyr på peisen og strikketøy i fanget?
Hi, and happy monday. We are having some really bad weather these days, rain, rain and rain. So this is a perfect time to spend in front of the fireplace with my knitting. 
Fredag 8.november ble Mariusgenserene overrakt, og det ser ut som om de falt i smak. Her har jeg vært så heldig å få bilde av den ene i bruk.
Friday 8th og november I delivered the Mariussweaters, and I thin they like them. I have been so lucky to get a picture of one in use.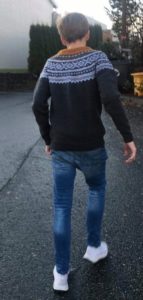 Dette er Linus, den ene tvillingen til min bror. Genseren var kombinert bursdag og julegave. 
This is Linus, one of my brothers twins. The sweater was birthday and christmasgift.
Jeg er igjen i gang med et nytt prosjekt, denne gangen falt valget på Setesdalsgenser. Har jo strikket en del av de før, men så har det seg slik at den ene ble utsatt for brukerfeil. Da er det jo kjekt at man kan strikke en ny, muligheten for at det blir noen andre prosjekt innimellom er ganske stor da.
I have started a new project, this time a new Setesdalssweater. I have knitted several of these before, but one of the sweaters has been prone to user error. Luckily I can make another, but I think I need some other projects in between. 
Etter en noe kronglete start, er jeg endelig godt i gang med mønsteret nederst på bolen. Hva syns dere om den lille»pelsballen» av en maskemarkør? Den lagde jeg etter at jeg var i Vilnius, fant en butikk det med masse billige småting. Måtte jo handle litt og resultatet var slike maskemarkører.  Denne gangen strikkes genseren i Per Gynt, tror faktisk det er første gang jeg strikker i det garnet, og jeg er positivt overrasket.  Trodde faktisk det skulle være stivere, vil tro at resultatet blir bra :)
I have started with the pattern at the body, thats good. What do you thin about my stitch marker? I made it after my trip to Vilnius. I found this little shop wit a lot of pearls and stuff. Had to shop a little bit and this was the result.  I am knitting this sweater in norwegian Wool  , Per Gynt. I have actually never tried this yarn before, it is really nice, and it will be a worm an cosy sweater.
Ønsker dere alle en fin uke, med eller uten ull!
Wish you all a happy week!
Annonser
---