Arkiv for: mars 21st, 2020
Hei på dere, da var det lørdag. Her skinner solen fra nydelig blå himmel, men jeg må være inne. Jeg er fortsatt veldig forkjølet. Heldigvis er min bedre halvdel frisk igjen,  så han skal ut å handle inn mat til neste uke. Jeg skal slappe helt av, strikke , se litt på TV, så satser jeg på at denne forkjølelsen snart slipper taket. Håper det går bra med dere, og at dere er friske, og har nok garn. 
Hi, finally saturday. We have lovely weather, but I have to stay inside. Hopefully I will get better soon from this cold. I am happy that my husband is feeling well again, so he has been out shopping food for next week. I am just going to knit, look at the television and relax. Hope you all are feeling good and having enough yarn.
Blir spennende å se hva fremtiden bringer, heldigvis er det ingen av mine nærmeste som har behov for legehjelp. Mine tanker går til alle dere der ute som trenger det nå. Enten av fysiske eller psykiske behov. Vet at det er mange sårbare der ute og som opplever dette som en fryktelig vanskelig tid. En stor klem til dere alle. Vi må forsøke å ta vare på hverandre så godt vi kan.
How the future is going to be is exiting, luckily none of my closest is in need for medical care. I think about all of you that is in need for this. Take care of each others as best you can.
Jeg er ferdig med den lille jakken, og strikker siste rest på buksen. Fikk tak i knapper som jeg syns var så søte til.  
Just finished the babyjacket and are finishing the trousers. The buttons is already on :)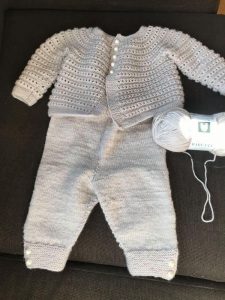 Helt ferdig meg Knerten buksa fra Klompelompe også. Tråder er festet og knapper sydd på .
Finished this one as well.
Happy weekend!
Annonser
---