Sommer – varme – Norge? – Summmer – good temperature – Norway?
Nå som er jeg er ferdig med mitt evighetsprosjekt kan jeg velge og vrake i andre pågående prosjekt. En tidligere kunde i garnbutikken, har spurt om jeg kan montere en jakke for henne, som jeg startet på i går. Det tar jammen tid det også. I tre timer holdt jeg på , sydde opp kant nederst på bolen, sydde sammen under ermene og startet med å ta opp masker til stolpene. Det siste ble jeg faktisk ikke helt ferdig med.
Since I haved finished with my long lasting project I can keep on with other projects. Yesterday I started assemblying a jacket for an earlier customer in the yarnshop. and it is really time consuming. I kept om for three hours, sewing the edge at the bottom of the body, under the armpits and started picking up stitches for the rib in front. 
Har enda to jakker til som skal monteres. Kofta Høstruta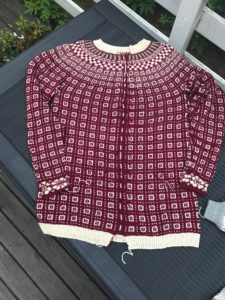 I also two more jackets I have to assembly. One for me
og Gretekofta.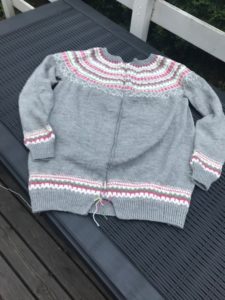 And one for my mother in law.
Sitter litt langt inne dette med montering, så jeg må bare ta «sats» og bli ferdig. Gretekofta er til svigermors sin 80 års dag, så der har jeg god tid, og Høstruta er i utg. pkt til meg selv så det kan jeg gjøre akkurat når det passer meg. 
To assembly is not the most funny thin I do, so I often start with a new project before assembly the old one. I really have to pull my self together and finish these projects. The grey one for my mother in law is a gift for her 80th birthday. So I have to finish that one. 
Strikker og strikker videre på den marineblå jakken i Lille Lerke.  Holder  fortsatt på ermene, som strikkes begge på en gang med teknikken magic loop. 
Still knitting on this jacket. Knitting both arms at the same time using «magic loop».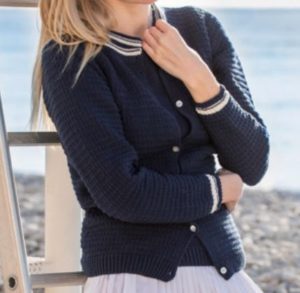 På onsdag dra vi til Spania for 3 uker. Noe strikk må jeg ha med meg til Spania, blir nok mest sannsynlig klutestrikk der. Kjekt med noe som tar lite plass, både i reiseveska og på fanget. Har strikket en del kluter før, men de begynner å bli klare for utskiftning.  Hva strikker dere på i sommer?  
Wedensday are we leaving for Spain, we are spending 2 weeks there. I am thinking, what t o knit in spain? The answere is cloth. It takes minimal space in the luggage and on the lap. What are ou knitting on this summer? 
 Her har virkelig sommertemperaturene kommet. I går kveld satt vi ute til kl 21.30. og gikk inn p.g.a mygg og ikke kulde. Var vel da ca 23 grader. De melder om opptil 30 grader dagene fremover, så det er bare å nyte. Nattesøvnen er det derimot ikke så bra med i varmen, bare å glede seg til vi kommer til Spania hvor vi har aircondition. 
God sommer – god strikking
We are really enyoing some summerdays at the moment it is 27th degrees celius, sitting outside in the shadow.  Sleeping in the night is not that easy, looking forward getting to Spain where we have AC.
Happy summer – happy knitting
Annonser
---