Arkiv for: september, 2019
Hei alle sammen, da er kanskje sommeren offisielt over?  Håper dere har hatt en fin sommer. Sommeren vår har vært super. Mange turer på hytta, deretter 3 uker i Spania. Neste års ferie er allerede booket.
Hi, maybe the summer is over? I hope you alle have had a nice summer. My summer has been wonderful.  We have been some weekends at the cabin and 3 weeks in Spain. We have already book flight for next year to Spain.
Her har vi hatt   gode temperaturer, og  det er først de siste 2 dagene jeg har hatt på langbukse. Ellers har  gått  kjoler og skjørt på jobb og shorts hjemme. Så både sommerkjoler og skjørt har virkelig fått «lufta» seg denne sommeren. I dag er det høstvær, grått og regnfullt.
Since we arrived from Spain we have been lucky to have nice and good temperature, and it is only the last two days I have been wearing trousers. So all my  summer dresses and skirts has been well used. Today it feels like autumn, grey and rainy. 
Vi kom hjem fra ferie natt til torsdag 21/8,  helgen etter var på på hytta i nydelig vær. Badet både lørdag og søndag i sjøen. Vi syns det var veldig kaldt lørdag morgen, men søndagen var det helt nydelig. Må ha vært minst 20 grader.
We were in Spain 31th og july and arrived home thursday night 21st og august. Next weekend we went to the cabin and the weather was great. We went swimming saturday and sunday. Saturday we thought it was cold, but the day after it was so nice. At least 20 degrees celsius in the sea.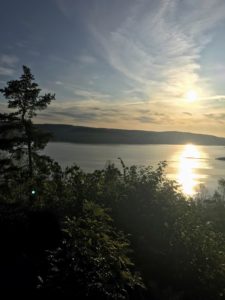 Tiden for vinterstrikk er i anmarsj, og jeg har en plan om hva som skal strikkes. Viser dere siden. Blir vel å strikke et par Mariusgensere i tiden fremover i tillegg.
It is really time to think about new knitting projects for the winter. And I got a plan, I will show you later. What I know today is that I am going to Knit two Marius sweaters. I have knitted that before, but this time in other colours and sizes. 
Jeg er nå  ferdig med kofta til svigermor , gleder meg til å gi den til henne. 
I have been finished whit the jacket to my mother in law, and really looking forward to give it to her. 
Det betyr at jeg har kun den marineblå jakken som skal avsluttes ( ikke så mye igjen der heller ) samt montering av høstruta.
The only project who is running right now is to finish the navy blue jacket and assembly the «Høstruta» jacket. 
Forrige helg malte vi. Etter at eldstemann flyttet ut, bestemte vi oss for å overta han sitt rom. Både lørdag og søndag malte vi. Ganske slitsom å krabbe på «alle fire» og å klatre i høyde. Første strøk malt i lørdag, andre søndag formiddag. Farge er industriell blue. 
Last weekend we painted our new bedroom. After our son moved we decided to move our bedroom. We painted both saturday and sunday.  Painting at the bottom and then at the top is almost like some exercise. Happy to be finised. Colour, Industrial Blue. 
Søndag tidlig ettermiddag flyttet vi ned «soverommet» før vi får middagsgjester.  Mandagen ble nye gardiner kjøpt og hengt opp, vi må nok kjøpe nytt sengeteppe også.
Sunday, early afternoon, we moved the furniture before we had guests for dinner. Monday we bought new curtains, and I thin we need a new bedspread as well. 
Om 1,5 uke får vi besøk, da skal koften overleveres, og vi skal feire verdens beste svigermor. Kristine og Martin ( kjæresten ) kommer fra Trondheim for å være med på festen. Det gleder vi oss masse til. 
In 1,5 week we got visitors, I am delivering the jacket, and we are going til celebrate the best mother in law. Kristine and Martin ( her boyfriend ) are coming from Trondheim to participate the celebration, and we are so looking forward to it. 
God høst!
Happy autumn!
Annonser
---