Happy new year!
Happy new year to all of you. Yesterday we celebrated with our good friends, living just a few hundred meters from us. We were three couples (and one dog) enjoying good food, good drinks moving in to 2020. Hope you all had a nice time as well. 
I have made a collage with my knittings for 2019 – and realize that it has been some new garnments. It`s not just for me.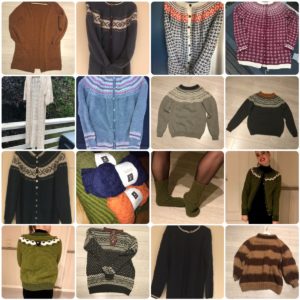 I am now knitting on a new jacket – Nancykofte. Using yarn I already had in my stock, sometimes it is smart to try slim my stock of yarn.  I have knitted the body, up to under the arms, and are at the time knitting the arms. I am using the technique «Magic Loop» and knit both arms at the same time. 
This evening the sky har been so pretty. I want to share it with you
May 2020 bring us all happiness (and a lot of time to knit) 
Annonser
---