Arkiv for: januar 11th, 2019
Hei og god fredag. Det skal bli deilig med helg, da skal det strikkes. Ikke at det ikke blir strikking alle de andre dagene også, men helgen er det jo flere timer å ta av.  Jeg er så heldig å ha en jobb som jeg trives veldig godt i, det hjelper selvsagt at jeg har så fine kolleger. To av de er også strikkeinteresserte, så på jobb «kaster » vi i oss maten, før vi gyver løs på strikketøyet resten av lunchen. 
Er såvidt i gang med ermene på Cortinajakken til Knut. De strikkes, som jeg pleier, med teknikken «Magic Loop», og begge på en gang. 
Hi, hope you have a nice friday. I am looking forward to the weekend, I am going to knit. I knit every other days as well, but I have much more time for knitting during the weekend. I am so lucky to have a job that I enjoy, and my colleagus are really nice. Two of them are knitters as me. During our lunch, we eat as fast as we can before we knit. 
I have just started on the arms for the Cortinajacket for Knut. I am using the technique , Magic Loop, og both arms at the same time.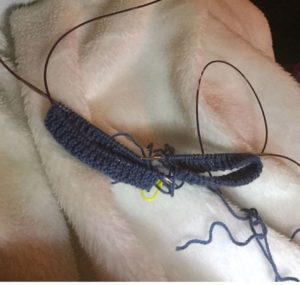 I et annet innlegg skrev jeg at jeg fikk gavekort av Knut til jul. Forrige lørdag var jeg i favorittbutikken, Sjarm og sjel på Kolbotn. Jeg er så fornøyd, fikk kjøpte meg dress ( bukse og jakke) , bluse og to kjoler. Kjolene var til halv pris .
Earlier I told you that I got a gift card  from Knut, in my favouriteshop at Kolbotn, Sjarm & Sjel. Last saturday I went to the shop, and I am so satisfied. I bought jacket, trousers, blouse, and 2 dresses. And lucky for me, the dresses was 50% off. 
Og enda har jeg en del igjen på gavekortet. 
I still have a nice amount left.
Id cardiganen strikkes det også på, men det går ikke så fort. Blir jo slik når man strikker på flere prosjekter om gangen. Det er vel ofte slik hos dere også? Må ha mer en ett pågående prosjekt. 
I am still knitting on my cardigan, but since I am knitting on several projects it is taking a wile to finish. I guess that it is the same for you? I really like to have more than one project at the same time.
I morgen skal vi en tur til Sverige og handle, siden vi bor så nærme Sverige gjør vi det med jevne mellomrom. Mye penger å spare på mange ting . Da blir det strikking i bilen, for ordens skyld, det er ikke jeg som kjører :)
Tomorrow we are going shopping i Sweden, we are living about 1 hour away, so we go there quit often. Lots of money to save on the right items. I am going to knit in the car, and of course I am not driving. :)
Ønsker dere alle en fin helg, med eller uten strikking i bilen . 
Wish you all a nice weekend, with or without knitting in the car.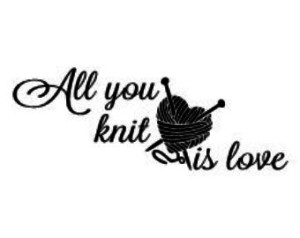 Annonser
---